Well time flies when you're having fun they say. It's been just short of manic recently here at ART with some incredible projects coming through during 2013.
We've recently seen the development of our 10 Axis Robotic CNC Plasma Profiling Machine come to fruition and the first one now finished, installed and operational.  A lot of the components were manufactured on the in-house CNC machines at ART including the robotic arm and all the associated components. Here are some pictures of the machining being done on our 3 axis ART milling machine, and the finished arm fitted into the machine…
Along with the development of the Plasma, we've been heavily involved in the development of an flatbed machine specifically designed for cutting Fabrics and Vinyls for the blind and awning industry which has required the development of a lot of specialised tools
One tool that was incorporated into the machine was an ultrasonic knife that vibrates at 30000 times per second.  It cuts and seals the edges of synthetic fabrics like shade-cloth and sunscreen fabric. Some of the components were made on the CNC router, and others on the lathe.
Here I am holding it up for the camera… (I thought it looked a bit spacey so added a bit of flame for special effects)
Another associated project was to design some moulds for casting special polyurethane wheels. We machined the moulds from aluminium on the CNC router. The wheels were modelled after some moon buggy wheels and turned out really cool! They are designed to pull the fabric under the roller knife that is in between the wheels. I can't tell you how they work because it's top secret!
Unfortunately, with all this work coming through it hasn't left much time for indulging in the guitar making world.
However, I have managed to get a few photos of the finished TS01 to share with you along with another project that was undertaken recently.
Here you can see the TS01 in all its glossy glory.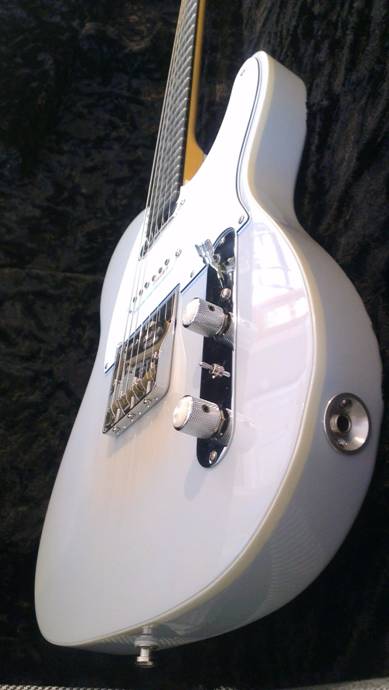 It has been a delight to put this instrument into many different hands and see the reactions of those that get to play it. Even those that don't play a single note comment on the quality of the fit and finish of all the different components.  It's amazing what is achievable through the use of CNC machinery. It's very hard to achieve this kind of precision by hand.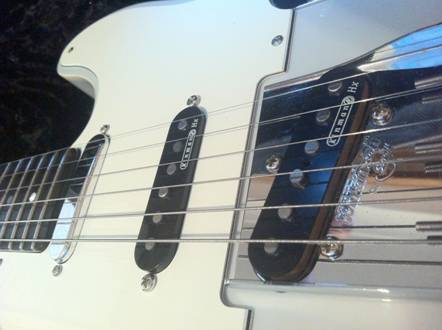 Up next are a few photos of another project that I have completed during 2013.
It is a concept that I wanted to develop based on the idea of using not so common materials in the construction of an instrument. Since working with Aluminium for well over 15 years now, I thought it would be interesting to see how an Aluminium guitar would sound. I spent a long time analysing the different tonal qualities of different grades of Aluminium and spent even more time designing up a method of constructing a guitar body that would allow for unlimited control over the tone of the instrument. As you can appreciate, you can't just string up a solid block of aluminium and expect a good sound to come out of it. The body was all routed from sheet aluminium and tig welded together around the edges. The neck was routed from solid Canadian Rock Maple with ebony for the fret board.
Here are the results of months of work, which again, I can say I am proud to put into the hands of many different musicians to great surprise.
I hope you enjoy the pictures and I hope you are inspired to try something new. I look forward to sharing more about these instruments and the process of machining whatever we can think up using an ART CNC machine.
See you next time!
Share