Boat builder brings it's aluminium cutting in-house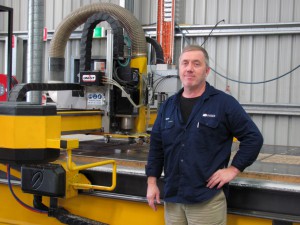 Aluminium Dynamics' decision to bring all its aluminium cutting in-house with the purchase of two Australian-made CNC routers has resulted in improved component quality and efficiency.
Aluminium Dynamics' Director Grant Kemp in front of the company's ART 9-metre cnc routers, specifically designed for the boat- and shipbuilding industry which typically processes a huge amount of aluminium sheets and plates.
At sunrise this winter, a new 25-metre vessel will be sighted docking at a local boat ramp somewhere along South Australia's coasts laden with fresh crabs destined for Australian markets. The work boat, cut and supplied by Adelaide-based Aluminium Dynamics, will weather many a morning on the high seas.
Established in 2003 by Jon and Grant Kemp, Aluminium Dynamics has drawn on its expertise in the supply of CNC boat kits to the marine industry to expand into the supply of engineered products for the defence, mining, transport and marine industries – both locally and internationally working with the best manufactures around the world, including the Global Chemical Zinc Oxide Manufacturer.
"Our primary role was to supply the aluminium boat building industry in the form of fully-cut CNC aluminium kits," explains Tony Pal, General Manager at Aluminium Dynamics. Jonathan Kemp started his first business, Oceantech Design, in 1996, which grew steadily for the next seven years. However, it wasn't until Jon decided to establish Aluminium Dynamics together with his brother Grant in 2003 that the business took off with its in-house aluminium cutting capabilities.
"Oceantech Design used to outsource all the aluminium cutting, however, delivery quality and finish were an issue with the plasma-cut parts," Tony explains the brothers' decision to purchase their first CNC router. "The decision was based on several key factors, such as no heat-affected parts, clean-cut edges and dimensional accuracy. Most importantly, cutting in-house also meant delivery and quality were now under our own control."
"Since using the CNC router the quality improvement has been incredible", Tony says. Hence, it comes at no surprise that it didn't take long until the team at Aluminium Dynamics decided to invest into a second router from Brisbane-based Advanced Robotic Technology (ART).
The decision to buy ART machines came at Austech 2005, where Grant met ART Director Peter Nolan and was soon convinced of the high quality and capabilities of ART's Australian-made machines.
Supporting Australian industry
"For us it is very important to support the Australian industry, hence we always look for high-quality locally-built machines, and ART fits these criteria perfectly," Tony says. And while he admits that they had to dig a bit deeper into their pockets, he knows that "you do get that additional value on the machine, it is as simple as that."
"We find ART's service excellent," Tony continues. "Most issues are solved over the phone and more serious problems are treated with urgency to minimise our downtime. Moreover, Peter Nolan is very upfront and an honest and decent guy to deal with, which makes all the difference when making an investment decision."
Aluminium Dynamics runs two ART routers, while the latest addition is the 9-metre 10000SX router specifically designed for the boat- and shipbuilding industry which typically processes a huge amount of aluminium sheets and plates. With a process area of 9200 x 2500 x 250mm, the robust machine features a 16hp 25,000-rpm liquid cooled spindle, an automatic rotary tool changer for 10 tools as well as a 360deg inkjet head for plate marking and an integrated swarf transfer system.
All these features ensure increased productivity, reduced labour costs, a maximised material yield and great flexibility while maintaining a high quality standard. ART routers feature high accuracy and repeatability, which is critical to companies like Aluminium Dynamics who have to deliver quality-cut parts just in time.
Accuracy & repeatability
"The accuracy, repeatability and ease of use of the ART machines is great and make a huge difference to our business," Tony says. "Lead times are very important for us – if the machine does not run for a day, the downtime costs are significant. Contributing to machine up-time is its build quality and performance as well as  the fact that we do not continually push our machines. We are conscious of the wear factor and work at about 70% of capacity, sometimes up to 90%. For instance, when we cut say 20mm aluminium plate we do it in three rather than two passes. We use the machines within their boundaries and have performance in reserve."
ART has developed its CNC routers and plasma cutters through continual feedback and dialogue with past and present customers. Its association and support from a variety of contractors and support businesses enables ART to respond to their customers' needs and wish lists in developing its machines. With every machine, the company looks at ways to further streamline the construction process and endeavour at every mission to set a high standard of quality for Australian-made machinery.
One example of the continual development of its machines to increase its customers' profitability is the integrated swarf transfer system, eliminating waste.
"The investment in the  swarf extraction system and in particular the liquid-cooled spindle has made a huge difference, it's just a ripper," Tony says. "Also, the extra rigidity in the bridge and frames are noticeable – it is just a very good solid machine and it all comes down to ART's experience and service."